Women Returnee Migrant Workers Group observed the International Worker's Day 2021
Our women returnee migrant workers groups observed the day on 01 May 2021 within the strict lockdown situation at Keraniganj office. They prepared festoons, placards and discussed challenges that they faced. `Safe Migration'- was the one the key agenda, they talked. In the in-house event, about 18 returnees and potential workers were participated.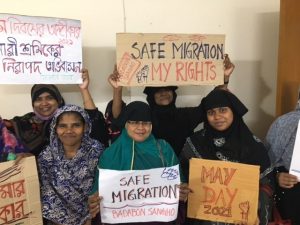 Soma Akter- Group President, Sonia Akter- Group General Secretary, Afsana Haque- Programme Officer and Shima Mukerjee- Field Organiser of Badabon Sangho delivered their speech. All of the Participants given emphasis on the social and political attitude towards returnees- particularly they way public and private services are provided. They faced challenges to be rehabilitated and integrated in the society.