Women Fisher-folk Association observed the International Worker's Day 2021
Women fisher-folk Association, Joymoni, Mongla has observed the day on 01 May 2021. Three specific demands were asked in the events- drinking water, security of homestead on state lands and fisher-folk cards. Prominent journalist and human rights activist- Noor Alam SK was delivered his speech and expressed solidarity with demands.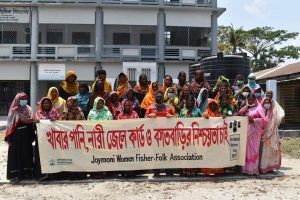 The group leader Rozina Begum, Kadiza and Monika Rani discussed about their recent suffering with lack of drinking water and threat from private tourism company for evicting their homestead. Laila Khatoon- Programme Manager of Badabon Sangho was there to cover some of the photos.