Team orientation workshop on Badabon Sangho's mission, vision, and strategy
On 17-18 Sept, a team orientation workshop was organized at Catholic Bishop Conference of Bangladesh (CBCB) center. It is basic orientation on Badabon Sangho's mission and vision. A total of 21 team members attended the workshop for two days. A total of 10 sessions were facilitated to orient the team on organisational mission, vision, and strategy.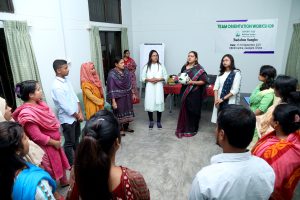 Most importantly, the significance of Badabon Sangho's feminist approach, rights-based approach, the differences between rights and services, field implementation tools, and governance structures were deeply discussed. In addition, policies like human resources management, financial management, safeguarding, anti-fraud, sexual harassment manuals, and guidelines were consulted and how those can be implemented at the community level. It is important to mention that recently three new team members have joined Badabon Sangho's team. Besides the serious discussion, a good number of team-building games and tools were practiced throughout the workshop. Executive Committee members, feminist leaders joined the workshop and shared their views with the team.