Consultation of Women's Land Rights Network
Badabon Sangho is committed to working on women's rights to land at the grassroots level. To achieve this commitment Badabon Sangho believes a strong network of women's rights organisation is much needed to work together strongly which can change the mindset of society and ensure women's land rights. Following this vision, Badabon Sangho formed a Women's Land Rights Network with the local women's rights and women-led organizations. The coordination meeting of this network held on 26 January 2021.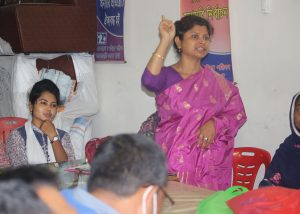 A total of ten women leaders of the grassroots level organization attended the meeting and shared their field experiences showing how women are getting deprived of land rights from inheritance successors and from their in-laws. They also discussed and recommended some points to work actively to remove this kind of inequality and promised to work together for women's rights at the grassroots level.