Senior team members received training on `Basic facilitation skill, 10-12 Oct 2021
Under the Badabon Sangho's capacity building arrangement, senior management team was received the `basic facilitation skills' training. It was three days long residential training at Bengal Inn Hotel in Dhaka. The purpose of the training was to improve knowhow, skills, and tools to facilitate communities for moving them towards changes. Sessions include group-based activities, demonstrations of facilitation, role plays and games. A total six (6) senior team members were participated in the training.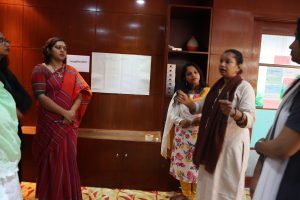 Training has pre and post evaluation, that assess how much their capacities are improved. Necessarily, trainees have improved knowhow and skill to facilitate groups at ground level. The programme was financed by Orange Knowledge Programme (OKP), Nuffic and implemented by Market Development Forum (MDF).