In order to discuss about the annual budget and specific allocation for climate change adaptation activities, quarterly coordination meeting was held with women group leaders and Mongla port municipality's representatives.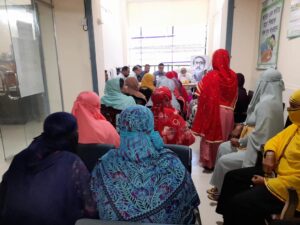 The meeting was organized in municipality conference room, where women leaders of slums were participated and discussed about their needs and constraints.
It was discussed to keep information regarding how many climate displaced peoples are coming in town and settling down in different income generating activities. In this regards, Badabon Sangho has been providing a GIS-ODK training to youths for tracking changes in slums and overall town. Mayor and other councilors were actively discussed these issues in the meeting.