Organized Team Orientation Workshop, 12-14 Feb
From 12-14th February 2022, a team orientation workshop was held at CODEC (Community Development Centre). A total of 14 new team members participated in this residential workshop for three consecutive days. The team was oriented on organizational mission, vision, and strategy.
The significance of Badabon Sangho's feminist and rights-based approach, differences between the rights-based and service-providing organization, field implementation tools, and governance structure was thoroughly discussed.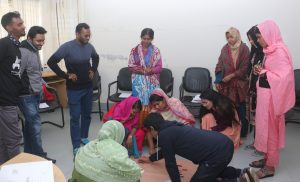 In addition, policies like human resources management, financial management, and safeguarding, anti-fraud, anti-sexual harassment manual, and other official code and professional guidelines were consulted and discussed how those can be implemented at the community level.
Besides the discussions, a number of team-building games and tools were practiced throughout the workshop. A cultural night and feast were organized where the team members enjoyed a feminist inspiring movie and held performances like singing songs, reciting poems, etc.
Executive committee members, feminist leaders joined the workshop and shared their views with the team.