Organised annual planning meeting, 28-30 Nov, 2021
From 28-30 November 2021, three days long Annual Review and Planning Workshop was held at CSS Ava Center with the Badabon Sangho's team, volunteers and Executive Committee's members. The main purpose of the workshop was to have details of the activities that would took place over the next year in different programme and different area offices. Team members and volunteers reflected on last year activities and assessed the results. Challenges, learning and way forwards were discussed and validated by not only team but also group members.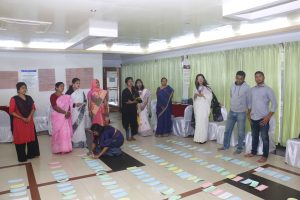 A total of 12 sessions were facilitated including numbers of team building events.  At the end of the workshop, an annual work plan has developed and finalized. The entire process was participatory and team members able to understand next year's activities and targeted achievements as well.
It was annual gather meeting for team members for breaking the ice among them and building a better understanding.