Meeting with youth groups, 17 and 27 Feb 2022
Two youth groups have been formed at Kalibari and Ghonoshyampur, both in the Betaga Union. Both of the groups consist of 20 members and one youth group has 13 girl members in it. The aim of forming this group is to spread awareness among the young members to build a movement for prejudice and a stigma-free future.
Bi-monthly meeting with the youth group was held on the 17th and 27th of February 2020. In this meeting, the group members got a clear idea about Badabon Sangho's mission so that they can have a proper understanding of the motive.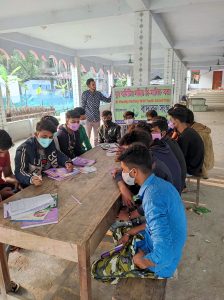 Then issues like early child marriage, racial discrimination, and the importance of tree plantation, blood donation were discussed. Also, the importance of gender equality was addressed.
The meeting was very interactive. The participants were engaged and shared the effect of these issues from their personal experience. Among the group members, leaflets and masks were distributed. The leaflets consisted of information about what can be done in case of violence against women and girls, and a helpline number. This inspired the group members to stand against any sort of violence against women and social injustice.